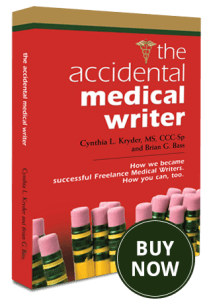 —Cynthia L. Kryder, MS, CCC-Sp and Brian G. Bass
Cyndy was a health care professional who never planned on becoming a writer. Brian was a writer who never planned on entering the health care profession. They wrote this book for everyone who is frustrated with working for someone else. For everyone who wants the freedom and security that freelance medical writing can help them achieve. They wrote this book to tell you how they became successful, so you can gain the confidence and skills to become a successful medical writer, too.
—Cynthia L. Kryder, MS, and Brian G. Bass
We've published Pencil Points, our free monthly newsletter since 2009. We've given our readers a wealth of insights and inspiration, from tips to help those who are new to medical writing, to practical ideas to help freelances at all levels of experience build their businesses and improve their bottom lines. In Best of Pencil Points collections, we've gathered the best and most popular articles from Pencil Points and added Authors' Updates and Business Tidbits throughout to give you the added benefit of what's happened and what we've learned since we first published them.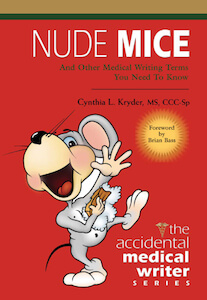 —Cynthia L. Kryder, MS, CCC-Sp
Even though Cyndy had a quasi-medical background, when she first began working in a hospital she was confused. It sounded as though everyone was speaking a different language, one she didn't understand. And when she became a freelance medical writer, despite her medical background, understanding what her clients were talking about was even harder! This book inThe Accidental Medical Writer series is meant to serve as a tool so that when your clients sound as though they are speaking Greek (and they may well be!), you can figure out what they're saying and translate it into accurate text for any audience, in any setting.
—Cynthia L. Kryder, MS, CCC-SP and Brian G. Bass
The ORG Directory may be the most complete and comprehensive directory of its kind! Comprising 5 separate directories, the ORG Directory includes more than 800 listings of medical, nursing, dental, allied health, and complementary and alternative medicine specialty societies. Use the directory to decipher acronyms, assist you in your work, and expand your client base. The ORG Directory is an ebook, so it's searchable, and every listing has a link to that society's website.